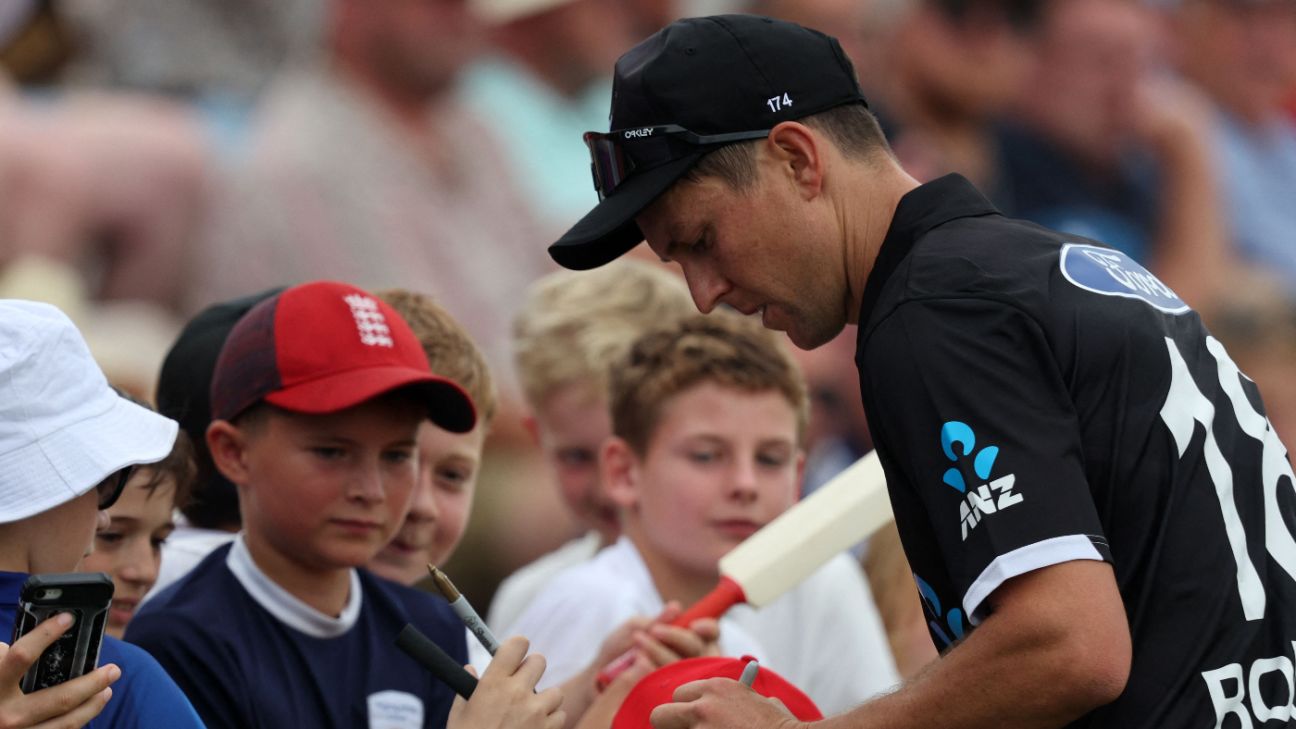 3 mins read
Eng vs NZ, 3rd ODI – Trent Boult relieved to be back in Black after decision to go freelance
Trent Boult is "very happy" to be back playing international cricket ahead of the World Cup in India, but said that New Zealand Cricket (NZC) had never given him any guarantees about selection for the tournament when he negotiated a release from his central contract last year.
Boult won his 100th ODI cap in New Zealand's defeat to England at the Ageas Bowl on Sunday, taking 3 for 37 to mark his first international appearance since last year's T20 World Cup semi-final against Pakistan. Hours later, his name was included in the provisional 15-man squad announced by New Zealand for next month's 50-over World Cup.
"It was great to be back in familiar surroundings," Boult said ahead of Wednesday's third ODI at The Oval. "It was a very good feeling, chucking back on the black ODI kit – and on the side, the individual milestone of 100 games added to that feeling as well."
When Boult stepped away from his central contract last year, he did not seek or expect assurances from NZC about selection for the World Cup but made his ambitions to play in the tournament clear, telling ESPNcricinfo earlier this year that he had "a big desire" to return to the ODI fold.
"Your spot is never guaranteed, and the decision was made over a year ago," Boult said. "I decided to step aside and fully appreciated that giving my contract back would open the door to other players to come through. Selections were prioritised for the contracted 20 [players] in New Zealand and I fully appreciated that.
"The decision was solely made around time away… with a young family, I couldn't travel as much. It just became too hard. I prioritised my time with them and gave myself a chance to play some cricket around to world, to see what I could learn.
"Selection for the World Cup was never guaranteed and I was never expecting it to be. I had to work for it and I'm very happy to be here. I just hope I can add value and take the tournament very deep, like we have in the last couple of attempts. I feel like we can really push this tournament to the final stages and give it a good crack."
New Zealand were runners-up in the last two 50-over World Cups and Boult admitted he still finds it hard to let the tied 2019 final go. "What was probably a little bit hard was coming back, after a year, to play for New Zealand, and it's a rain delay and it's the only game playing on the big screens at the ground," he joked. "That pushed me a little bit.
"The ODI World Cup is that big tournament that everyone wants to be a part of. I've been part of a couple so far and although there seems to be a world event every year, this ODI World Cup has always got a special feeling around it… once we touch down in India, I'm sure the feelings will be pretty strong with a lot of excitement."
#Eng #3rd #ODI #Trent #Boult #relieved #Black #decision #freelance