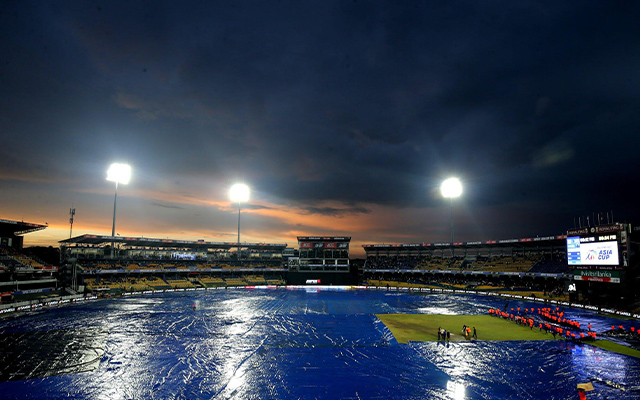 2 mins read
How Sri Lanka's manual drying system beats Super Soppers?
The Asia Cup 2023 has been marred by rain so far in Sri Lanka as several matches particularly the India vs Pakistan fixtures have witnessed numerous interruptions due to bad weather. However, the ground staff has done a phenomenal job in covering and drying the ground in time to allow the timely resumption of the games.
The entire process of covering and uncovering a cricket ground in Sri Lanka is done manually as opposed to the use of the latest technologies in SENA (South Africa, England, New Zealand, Australia) countries. The entire work is done by around 60 trained groundsmen.
However, contrary to the assumption, the entire process doesn't take that long. According to a report in ESPNCricinfo, at the R. Premadasa Stadium in Colombo, it takes around 30-45 minutes to cover the entire playing field. The process takes another 15-20 minutes during heavy winds.
The staff further use a methodical way of uncovering the wet ground as they drain out water from one cover to the other towards the outermost part into the drain. By doing the entire process manually, they save about an hour instead of using a super-sopper.
Notably, the super-sopper can't be driven fast and the water absorbed by it has to be drained out at regular intervals. A total of 26 covers are used to cover the R. Premadasa Stadium with each costing 4-6 lakh Sri Lankan rupees measuring 100ft x 100ft.
Asia Cup 2023 final to be shifted?
During Pakistan vs India Super 4, Match 3 in the Asia Cup 2023, the groundsmen were seen using different methods to dry the pitch such as electric fans and Halogen lights. According to reports, the Asian Cricket Council (ACC) is deliberating upon shifting the Asia Cup 2023 final from Colombo to Pallekele International Cricket Stadium in Pallekele due to heavy rain forecast in the coming days.
The fans have openly expressed their displeasure to ACC for hosting the tournament in the rainy season in Sri Lanka and have demanded to shift it.
#Sri #Lankas #manual #drying #system #beats #Super #Soppers