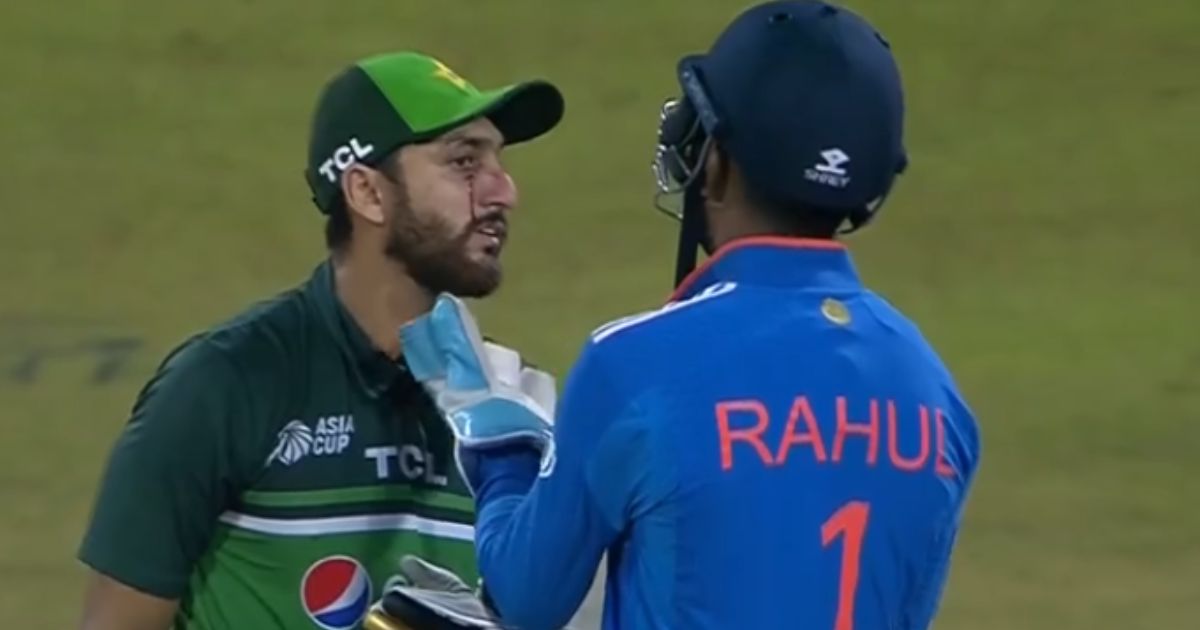 2 mins read
Agha Salman Set To Miss Crucial Tie Against Sri Lanka After Suffering Freak Injury- Report
Everything is going wrong for Pakistan at the moment. Their Asia Cup campaign is in grave danger of getting completely derailed after the humiliating loss against India in the Super 4. Pakistan's miseries have been compounded by a number of injury setbacks.
As many as three Pakistan players can miss the do-or-die match against Sri Lanka after suffering injuries while playing against India. While Naseem Shah and Haris Rauf are all but confirmed to miss the game against Sri Lanka, Agha Salman could join them on the sidelines too after being struck in the face while batting against India.
Agha Salman got hit on his face while attempting a paddle-sweep. He failed to make good contact with the ball and the ball went on to hit him on his right cheek, just below the eye. The unfortunate incident took place on the final ball of the 21st over when Agha Salman was facing Ravindra Jadeja without wearing a helmet. He tried to guide the ball to fine-leg but got the top edge of his bat.
The ball hit him on his face and he started bleeding straightaway. The Pakistan physio rushed to the field immediately and managed to stop the bleeding. Agha Salman continued to bat but did not last long. And according to reports, he is likely to miss the upcoming game against Sri Lanka.
Agha Salman likely to miss Sri Lanka clash:
According to Pakistani journalist Qadir Khawaja, Agha Salman was taken to a hospital in Colombo after the match. And although the batter is feeling well, he has a swelling on his face. The journalist further stated that Saud Shakeel is likely to replace him in the Pakistan Eleven.
"Salman Ali Agha's participation against Sri Lanka became doubtful. Saud Shakeel is likely to be included in place of Salman Agha. Salman Agha was hit by a ball on his nose while playing a match against India. Salman Ali Agha was taken to Colombo hospital after the match. Done, Salman Ali Agha has swelling on his face but he is feeling better first," the journalist wrote on X (formerly Twitter).
سلمان علی آغا کی سری لنکا کے خلاف شرکت مشکوک ہوگئی. سلمان آغا کی جگہ سعود شکیل کو شامل کئے جانے کا امکان ہےسلمان آغا کو بھارت کے خلاف میچ کھیلتے ہوئے ناک پر گیند لگی تھی،سلمان علی آغا کو میچ کے بعد کولمبو کے اسپتال لے جایا گیا،اسپتال میں سلمان علی آغا کے ناک پر پٹی کی گئی،سلمان…

— Qadir Khawaja (@iamqadirkhawaja) September 12, 2023
Meanwhile, Pakistan will be desperate to bounce back against Sri Lanka after suffering a humiliating 228-run defeat against India. Asked to bat first, India scored 356 for 2 before bowling out Pakistan for just 128 runs.


#Agha #Salman #Set #Crucial #Tie #Sri #Lanka #Suffering #Freak #Injury #Report