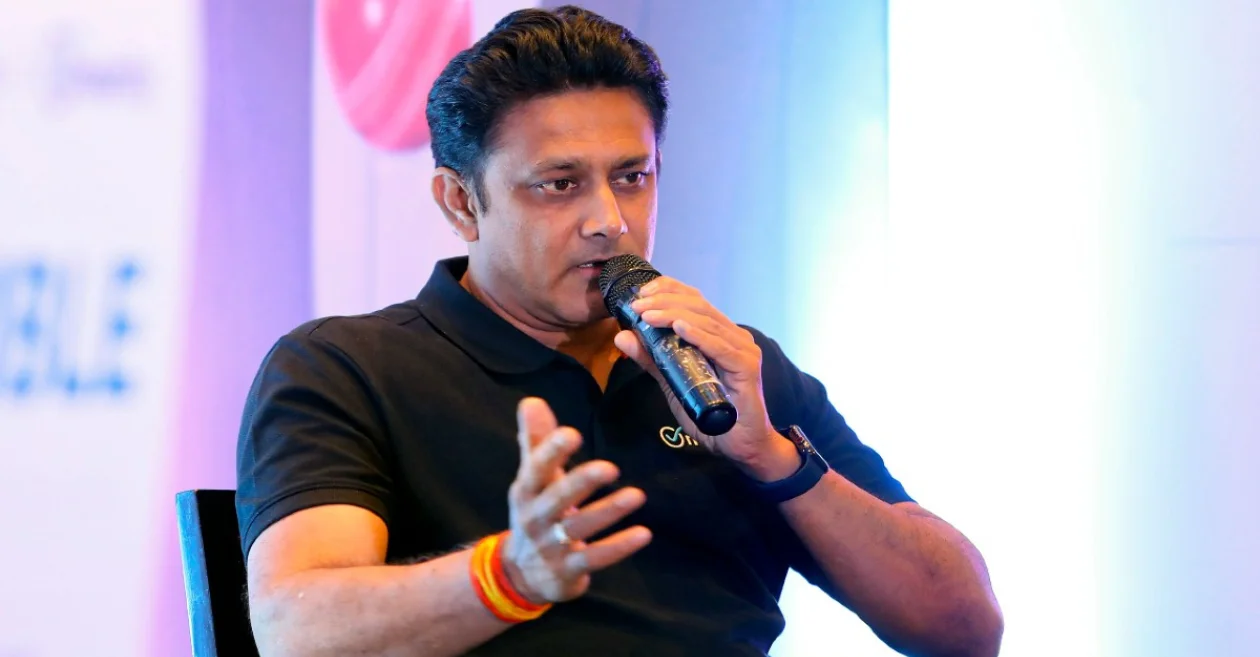 3 mins read
Anil Kumble points out a major weak link in Team India's ODI World Cup 2023 squad
The countdown to the ICC Cricket World Cup 2023 has begun, and cricket enthusiasts all over the world are eagerly waiting for the tournament to kick off in India from October 5. As India prepares to host the World Cup after a long hiatus since their 2011 victory, expectations are running high among fans.
However, amidst the excitement and optimism, legendary India spinner Anil Kumble has raised a significant concern by highlighting a major weak link in Team India's ODI World Cup squad.
Anil Kumble not satisfied with India's ODI World Cup 2023 squad
Team India recently announced a formidable squad for the upcoming ODI World Cup, garnering praise from many experts and fans alike. The squad boasts experienced players with top-class batters, skilled bowlers, and fired-up youngsters. Nevertheless, Kumble believes that there is one crucial area that has not been adequately addressed in the team assembled by the Board of Control for Cricket in India (BCCI).
Also READ: Who is Mayanti Langer? All You Need to Know About The Asia Cup 2023 Presenter
Anil Kumble voices concern about the lack of all-rounders in the Indian team
In a recent interaction with ESPNcricinfo, Kumble emphasized the pressing need for more all-rounders in the Indian ODI World Cup squad. He highlighted that while having bowlers who can contribute with the bat is valuable, it's equally important to have batters who can provide bowling options, thus increasing the team's depth.
Kumble even pointed out that India had the opportunity to develop players who could offer these vital all-round skills during the four-year period between World Cups but failed to do so.
"The one problem that perhaps needed to be addressed from the last World Cup to this World Cup (I'm talking about the ODI World Cup) was that we needed more all-rounders, which has never been addressed. You don't have batters who come and give you those options, and bowlers giving you some batting is secondary. But I think batters giving you bowling options certainly increases the depth," said Kumble.
"We had four years and had to develop those players. Instructions had to be given to identified players, and they should have identified and said okay, you are the guys who are going to give me options. You know for example Yashasvi Jaiswal, I know he bowls a bit of leg break. But I have hardly seen him bowl in any match in the last one year," he added.
The Karnataka stalwart concluded by emphasizing the need for all-rounders in the the Indian batting line-up. He also gave an example to support his argument and said that an ideal scenario, according to him, would involve Ravindra Jadeja batting at number eight, unlike the current line-up where he occupies the number seven spot.
"Shreyas Iyer gives a bit of bowling. Now I don't know with his back issue whether he'll come in and bowl. Rohit used to bowl with the shoulder dislocation, and I know that he has that problem so he is not gonna bowl. So who's it gonna be? You need options in the top. If you had that ideally you know in this line-up for an ideal sort of real batting depth, Jadeja at number eight would have been the best option but today he is at number 7," concluded the 52-year-old.
Also READ: Twitter reactions – India qualifies for Asia Cup 2023 final after a stunning win against Sri Lanka
#Anil #Kumble #points #major #weak #link #Team #Indias #ODI #World #Cup #squad