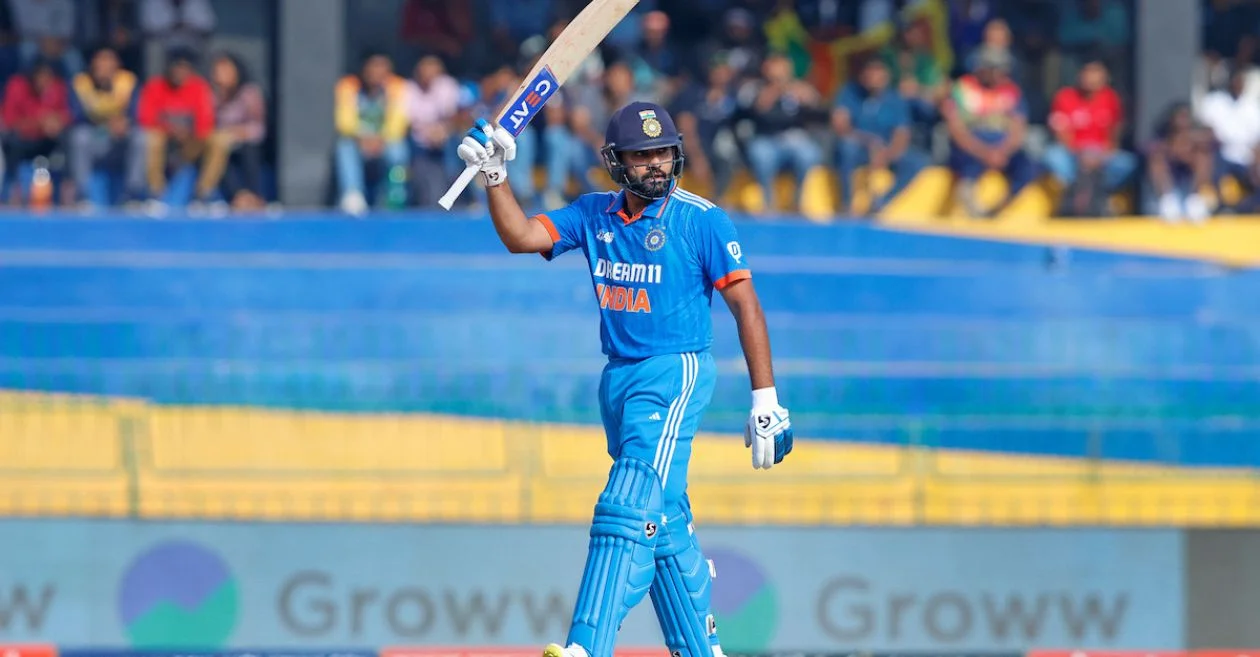 2 mins read
Asia Cup 2023: Indian skipper Rohit Sharma breaks numerous records in the clash against Sri Lanka
Indian cricket captain Rohit Sharma showcased his batting brilliance in a memorable Super 4 clash at the Asia Cup 2023 against Sri Lanka in Colombo. Team India emerged victorious with a 41-run triumph over the Islanders, securing their place in the tournament's final. Rohit's remarkable performance not only sealed India's victory but also etched his name in the annals of cricketing history.
Rohit Sharma's Milestone-Packed Innings
In a low-scoring contest, Rohit played a pivotal role, smashing a brilliant half-century, scoring 53 runs. However, his innings was not just about the match victory; it also witnessed several significant milestones:
10,000 ODI runs club: Rohit joined the elite club of batters with 10,000 ODI runs. He achieved this milestone when he reached 23 runs, sending a delivery straight over Kasun Rajitha for a six.
15th overall player: Rohit became the sixth Indian and the 15th player overall to enter the 10,000-run club in One-Day Internationals, further solidifying his place among cricketing legends.
Fastest to 8000 runs as an opener: During his innings, Rohit Sharma reached his 8,000th run as an opening batter in the 50-over format. His remarkable speed in achieving this milestone makes him the fastest opening batter to do so in ODI cricket.
Also READ: Comic Gold – Most amusing memes from India versus Sri Lanka Super 4 showdown in Asia Cup 2023
Joining the Indian elite: With over 10,000 ODI runs, Rohit now stands alongside Indian cricket legends like Sachin Tendulkar (18,426 runs), Virat Kohli (13,000-plus), Sourav Ganguly (11,363), Rahul Dravid (10,889), and MS Dhoni (10,773) in the elite list of Indian players with more than 10,000 runs in ODIs.
Second fastest to 10,000 runs: Rohit's achievement as the second fastest to reach 10,000 runs in ODIs is a testament to his batting prowess. He surpassed the legendary Tendulkar, who took 259 innings to achieve this mark. Kohli leads this list, having taken just 205 innings to reach the 10,000-run milestone.
Most sixes in ODI Asia Cup: Adding to his list of records, Rohit now holds the record for the most sixes (28) in the ODI Asia Cup. He surpassed the previous record held by Pakistan's Shahid Afridi (26).
Also WATCH: Kuldeep Yadav's staggering delivery sends Matheesha Pathirana packing – IND vs SL, Asia Cup 2023
#Asia #Cup #Indian #skipper #Rohit #Sharma #breaks #numerous #records #clash #Sri #Lanka