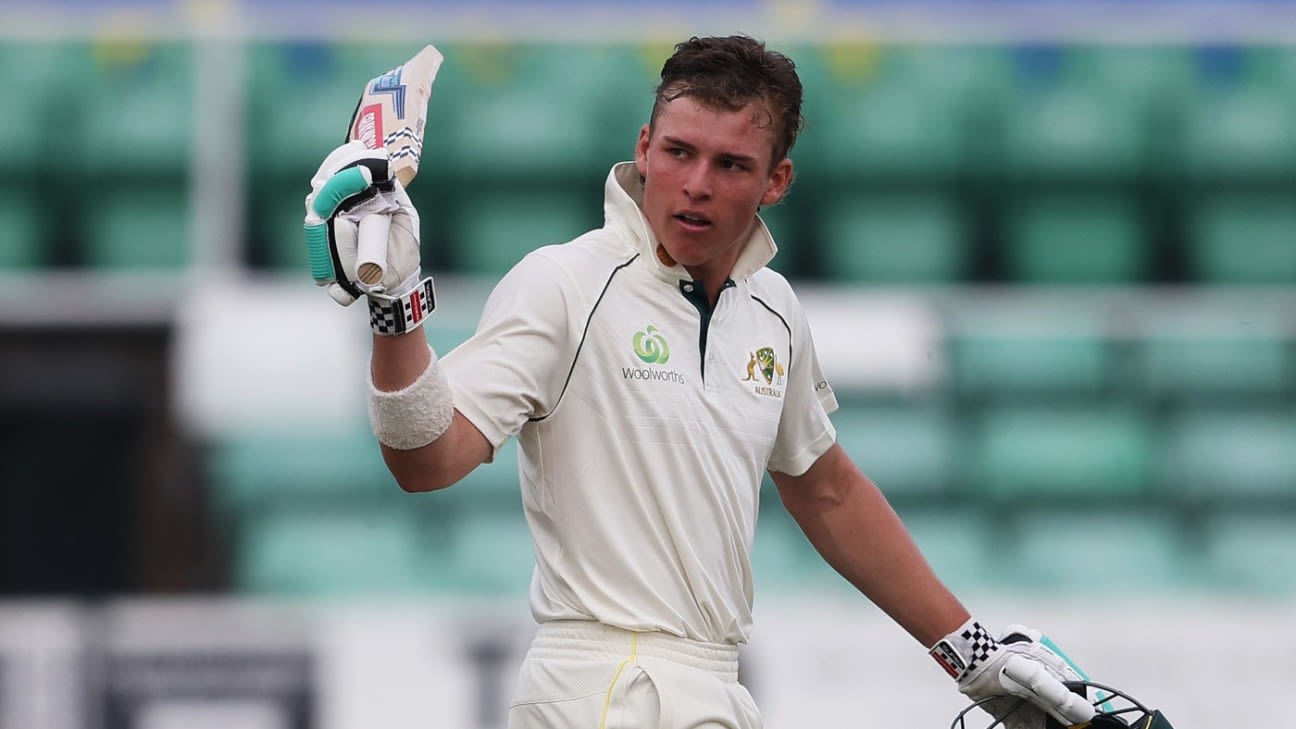 4 mins read
Harry Dixon lands BBL deal, hopes to emulate David Warner
Harry Dixon is 18 years old, has been blazing runs for Australia Under-19s, idolises David Warner, and has just been handed a two-year deal with Melbourne Renegades.
Dixon, a left-handed opener, has been highly regarded around the Victoria grade system – he hit his maiden hundred for St Kilda in the final round of last season – and has just come off a memorable few days in England where he made 167 and 83 in the first Youth Test at New Road.
In the first innings, he raced to a century before stumps on the first day and his second-innings runs came from 52 balls, adding 156 in 17.2 overs with Sam Konstas, as Australia A chased for 191 in 21.2 overs.
"I was on 66, maybe, with about 40 minutes left in the day, then hit a couple of boundaries in one over and told myself I was going to get a hundred before the close of play," he told ESPNcricinfo. "[In the second innings] we went out there and wanted to have a bit of freedom. We didn't plan to have it all come off that way, but we got to drinks and were both hitting them pretty well. Good to get the boys a rest day, too, which was nice."
Earlier this year, Dixon made 148 off 125 balls in the one-day series when England Under-19s came to Australia. The name of the batter he most admires is, perhaps, therefore not entirely a surprise.
"I've always idolised David Warner," he said. "Seeing him grow up as a T20 player and then be able to play all three formats as well as he has done is hopefully something I want to do in the future. He has been incredible and done a lot for the country, hopefully, I can be pretty similar and get into the Aussie team and play all three formats.
"I'd like to think of myself as someone who can potentially in the future play all three formats. Think I showed that in the last couple of series against England which is nice."
Dixon does not yet have a state contract, although he will spend some time training with Victoria in the coming weeks, but there is a strong chance that will come next season. However, he has been snapped up for the BBL.
Renegades first showed interest during the Under-19 series in Australia during February, then moved in for a deal after the recent Top End tournament in Darwin where Dixon played for the opposite side of town as part of the Melbourne Stars Academy. He made a couple of starts, including 32 of 14 balls opening against Pakistan A.
He is certainly going to have some experience to learn from with Aaron Finch, Shaun Marsh and Quinton de Kock part of Renegades' squad.
"Can't wait to share a locker room with guys like Aaron Finch, Shaun Marsh and Nathan Lyon," he said. "Looking forward to getting stuck in and learning as much as I can and becoming the best player I can be. Regardless of however many games I play, just being around and training with those boys will be fantastic for my development as well."
Melbourne Renegades General Manager James Rosengarten was pleased to add more young talent to their experienced list.
"Harry's one of the country's most promising batters and we're thrilled to have him agree to join our club," Rosengarten said.
"We've got a wealth of experienced players within our group and also some exciting young talent like Will Sutherland and Harry. Harry has all the attributes to be a successful player in this format of the game for a long period of time."
Andrew McGlashan is a deputy editor at ESPNcricinfo
#Harry #Dixon #lands #BBL #deal #hopes #emulate #David #Warner