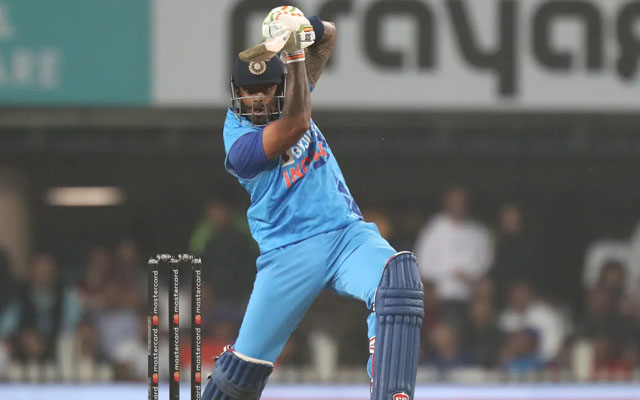 2 mins read
'He's so difficult to bowl at'
Joe Root, a name synonymous with elegance and class in the world of cricket, knows a thing or two about batting excellence. Root, often regarded as one of the 'Fab Four', has left an indelible mark on the game with his dominant performances. However, even he could not help but be in awe of Suryakumar Yadav's batting prowess.
Root could not hold back his admiration for Yadav, acknowledging his consistently impressive performances. He said Yadav's ability to consistently find the boundaries has set him apart in the cricketing world. Root went on to explain the challenges of bowling to Yadav, stating,
"SKY's consistency is frightening. How he's managed to score so many hundreds in a short space of time, especially in the position in the order that he bats and how quickly he's done it. It's been remarkable really. And he's so difficult to bowl at because he hits it in such unusual areas," the right-handed batter said in an interview with Times of India.
Root also highlighted the impact the Mumbai prodigy has on aspiring cricketers, particularly the youth. He emphasized how watching Yadav's style of play would inspire any young cricketer. He also commended Yadav's cricketing intelligence.
"Any young kid who watches him would want to go and replicate it. It looks so much fun to do and today. But he's very smart about how he does it as well. He picks the ball well, he picks his gaps and he executes extremely well. He's made himself into a wonderful T20 player," he affirmed.
Root drew parallels with cricketing legends like AB de Villiers and Kevin Pietersen, who have inspired generations. "For Virat, Sachin was a massive inspiration for him. That's one of the greatest things in this sport at this level. You inspire young children to pick up a bat and a ball and want to go and do great things in the game. Same thing SKY is doing. A lot of youngsters are looking up to him and doing something different just like him."
#Hes #difficult #bowl