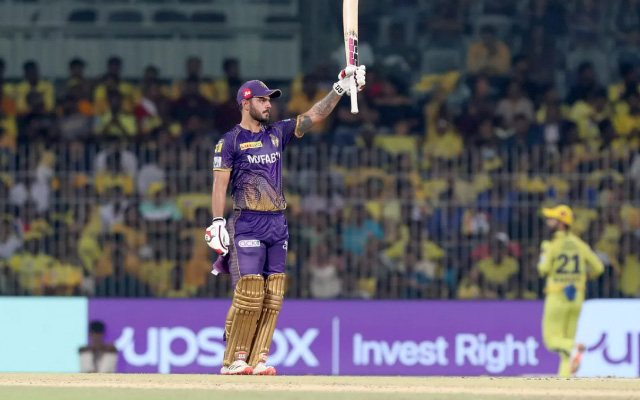 2 mins read
It wasn't difficult to switch base from Delhi to UP, have played there from junior to senior level: Nitish Rana
Nitish Rana is among the many talented cricketers in the Indian cricket. The Delhi batter announced on August 20 that he would be switching teams in the domestic circuit for the upcoming season as the Delhi captain joined Uttar Pradesh, where he will be playing alongside close friend and Kolkata Knight Riders teammate Rinku Singh.
As per reports, Rana was not happy with some of his teammates in Delhi and also the fact that he was dropped from the Ranji Trophy side and removed from captaincy. In a recent interview, the 29-year-old said that shifting base from Delhi to Uttar Pradesh was not a difficult call for him as he felt that the move would benefit his career.
"It wasn't really difficult. I just felt that I was at that stage of my career where I needed a different dressing room and a different environment. I just felt that I should make the switch and I had the opportunity that came to me. As we say, change is at times good and I felt it would be good for my career," Rana told New18 CricketNext in an interview.
I want to win trophies for Uttar Pradesh: Nitish Rana
Rana captained KKR in the absence of Shreyas Iyer in the 2023 edition of the Indian Premier League. The two-time champions finished seventh on the points table but Rana had his best IPL season with the willow, scoring in excess of 400 runs for the first time.
Asked why he chose Uttar Pradesh, he replied that he played a lot of cricket against Uttar Pradesh over the years and there is a lot of talent in the state. He wanted to be part of their talented setup and win some trophies as well.
"I have played a lot of cricket against UP right from junior level to senior level and I have seen a lot of talent in UP state. I just wanted to be a part of a dressing room which possesses a lot of talent. My thought process is not just playing or just being a part of the line-up. I want to win trophies," Rana said.
#wasnt #difficult #switch #base #Delhi #played #junior #senior #level #Nitish #Rana