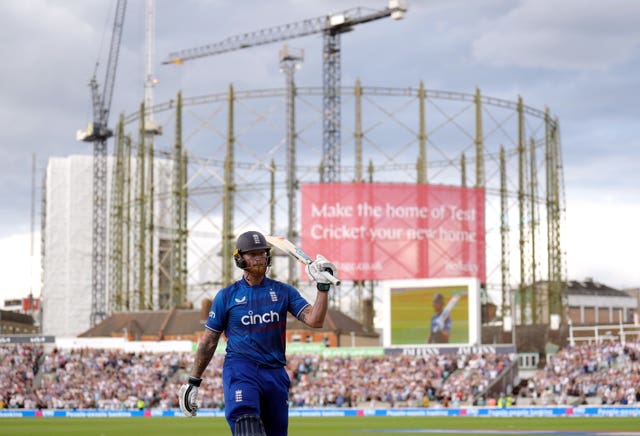 5 mins read
Stokes breaks England record in dominant ODI win over New Zealand
Ben Stokes sent out a World Cup warning to England's rivals with a record-breaking 182 against New Zealand less than a month after reversing his ODI retirement.
Stokes, playing just his third 50-over match a year after walking away from the format, was in brutal form as he unloaded nine sixes and 15 fours on his way to the biggest score by an English batter.
The Test captain was England's key man in 2019 and looks ready to reprise the role in India next month after blowing the one-day cobwebs away with a match-winning 124-ball innings that fired the hosts to 368.
New Zealand never got close, rounded up for 187 as the hosts closed out a 181-run thrashing to go 2-1 up with one game to play. The Black Caps managed just five more runs between them than Stokes thrashed on his own.
Jason Roy, the man who held the England record for more than five years since his 180 against Australia in Melbourne, was watching from the balcony as Stokes nudged him out of the history books.
The moment came in typically emphatic fashion, Stokes clobbering Ben Lister high over long-on, with Roy joining the crowd's ovation with a smile on his face.
Roy had been pencilled in to make his comeback in the match but another bout of back spasms in the morning meant he was once again confined to the sidelines. With Harry Brook still angling to break into the 15-man World Cup squad, the timing could hardly be worse for an unpredictable niggle to emerge.
If there was one down side to Stokes' first limited-overs century in six years it was the now familiar sight of him grimacing in pain as his chronic knee problems continued to hinder his movements.
Stokes has taken a calculated gamble that he can manage the condition in the weeks ahead but, even after a six-week post-Ashes lay-off, it was apparent that will not be an easy job.
Dawid Malan had a better time of it than Roy, scrubbing any lingering question marks next to his name with an accomplished 96 at opener. He shared a stand of 199 with Stokes after the pair were brought together in the third over at 13 for two and would have been good value for a century of his own.
His innings was less muscular than Stokes and he could not keep up with his partner's furious strike-rate of 146.77 but Malan was a calm, authoritative presence at the top order despite dashing back from the birth of his second child to reclaim his spot. England are lucky to have him and any accommodation for Brook would surely have to come at somebody else's expense.
The Yorkshireman was only edged out of the team in the first place by Stokes' change of heart and the value of having him around was proved over and over again as he imposed himself on a side who will provide England's first World Cup opponents in Ahmedabad.
Stokes' timing was not perfect during his first 50 runs, throwing himself into powerful shots that relied more on will-power and brute force than touch and technique.
But he warmed to his task, taking just 32 balls to convert his half-century and 30 more to go from 100 to 150. His adaptability was on show throughout, with Lockie Ferguson cranking it up to 94mph at one stage only to be despatched repeatedly to the ropes as he strove for speed. At one stage he nonchalantly stepped inside the line of a short ball and helped it over his right shoulder for a one-bounce four.
When New Zealand took pace off, it got even uglier as Stokes hit Rachin Ravindra out of the attack with three sixes in two chastening overs. Once Malan was strangled down leg off a Trent Boult delivery so wayward it was initially called as a wide, New Zealand picked up wickets with enough regularity to bowl England out with 11 balls unused.
Boult, who began by dismissing Jonny Bairstow off the first ball of the match and had Joe Root playing on in his next over, finished in credit at five for 51 amid some messy figures.
Stokes finally departed in the 45th over, mis-hitting a low full toss from Lister two balls after beating Roy's record.
The Kiwi chase never got off the ground, an excellent new ball spell from Chris Woakes reducing them to 37 for four. He took care of Will Young, Henry Nicholls and Daryl Mitchell to suck the heat out of the contest.
The ground began to empty despite the best efforts of Glenn Phillips (72), with Liam Livingstone helping himself to three cheap wickets at the close.
For exclusive stories and all the detailed cricket news you need, subscribe to The Cricket Paper website, digital edition, or newspaper from as little as 14p a day.


#Stokes #breaks #England #record #dominant #ODI #win #Zealand