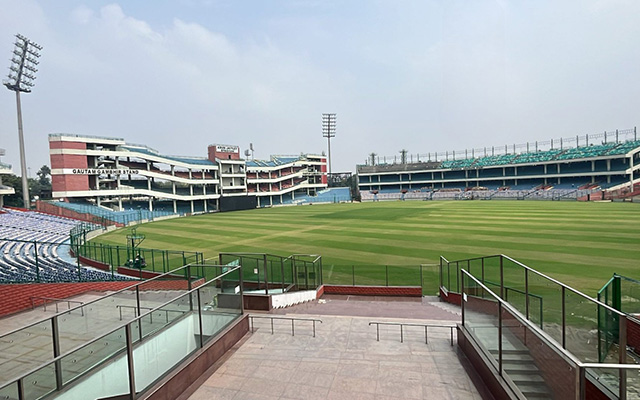 2 mins read
Arun Jaitley Stadium's outfield gets a stunning makeover for ODI World Cup
With the highly anticipated ODI World Cup 2023 fast approaching, both teams and hosting grounds are leaving no stone unturned in their preparations for this prestigious tournament.
The outfield of the Feroz Shah Kotla Stadium in Delhi has been renovated for the upcoming 2023 World Cup. This cricket ground, established in 1883 and now known as the Arun Jaitley Stadium, will host five World Cup matches. 
The matches include South Africa vs Sri Lanka on October 07, India vs Afghanistan on October 11, England vs Afghanistan on October 15, Australia vs the Netherlands on October 25, and Bangladesh vs Sri Lanka on Nov 06.
Pictures of the newly revamped outfield of the Feroz Shah Kotla Stadium have been circulating on social media, showcasing its beautiful appearance for the marquee tournament.
New outfield in Delhi for the 2023 World Cup. pic.twitter.com/vgjaRbfeFE

— Mufaddal Vohra (@mufaddal_vohra) September 13, 2023
The stadium is located near several iconic landmarks in Delhi and has a rich history of hosting cricket matches. It has previously hosted World Cup matches in 1987, 1996, and 2011. 
The highest ODI total in Delhi was achieved by the West Indies, who scored 330-8 against the Netherlands in the 2011 edition. Notable performances at this ground include Yuvraj Singh's 2-43 and 73-ball 51 not out against the Dutch in the same match, as well as AB de Villiers' unbeaten 107 against the West Indies.
In 1987, Mohammad Azharuddin played a key role in Australia's only defeat of the edition, scoring an unbeaten 54 off 45 balls and taking 3-19. In 1996, Sanath Jayasuriya famously hit Manoj Prabhakar into retirement at this ground.
India is scheduled to play a match at this revamped ground on October 11 against Afghanistan. Other matches in Delhi will take place on October 7, 15, 25, and November 6. The marquee event will start on October 5 as defending champion England and New Zealand are set to play each other in the opener of the tournament.


#Arun #Jaitley #Stadiums #outfield #stunning #makeover #ODI #World #Cup