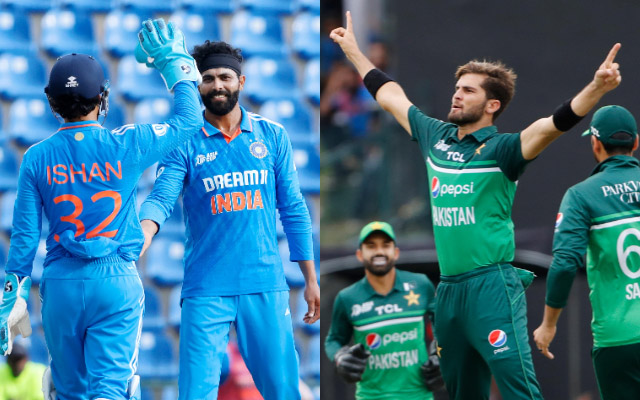 2 mins read
Asia Cup draw appears to be fixed, everyone just wants India-Pakistan final: Charith Senanayake
Charith Senanayake, former Sri Lanka cricketer, slammed the Asian Cricket Council (ACC) for providing a reserve day for the Asia Cup Super Four clash between India and Pakistan. Senanayake, who was the chairman of the technical committee for the 2022 Asia Cup, stated that the rules can be changed if all the teams agree with it. 
The 60-year-old said that if the upcoming Sri Lanka-Pakistan game is washed out, Pakistan will not have a chance to qualify as they are behind on net run rate and there is no reserve day unlike the India-Pakistan clash.
"Before the tournament, playing conditions are given and all the teams are made aware of them. Thereafter rules cannot be changed unless all the teams agree with it. Otherwise, it's unfair," Senanayake was quoted as saying by The New Indian Express. 
"Hypothetically, if the Pakistan-Sri Lanka game is washed out, both teams will get one point each. In that scenario, on the basis of the better run rate, Sri Lanka will go through and Pakistan will be out. That's because you don't have an additional day or a reserve day. That will be very unfortunate. So the decision which apparently PCB made could boomerang on it," he added. 
The ACC makes money only through this it seems: Charith Senanayake
Senanayake continued by stating that if PCB requested a reserve day, it would call into doubt the legitimacy of the competition. The ex-cricketer said that it seemed like the games were rigged because everyone wanted an India-Pakistan final. He also expressed his confusion about how the groups were drawn and criticized the ACC, alleging that the board was just doing this to generate revenue.
"If that is the case (PCB wanting a reserve day), then there is a big question mark about the authenticity of the tournament. It becomes very questionable. It appears games (draws) were fixed because everybody was trying for an India-Pakistan final. You cannot have different rules for different boards.
"People tend to ask questions about how it happens all the time. To begin with, I actually don't know how the groups were drawn. Whether it was actually done or done physically. But it looks very funny. The ACC makes money only through this it seems. Everyone is trying to make money," the former cricketer added.
#Asia #Cup #draw #appears #fixed #IndiaPakistan #final #Charith #Senanayake