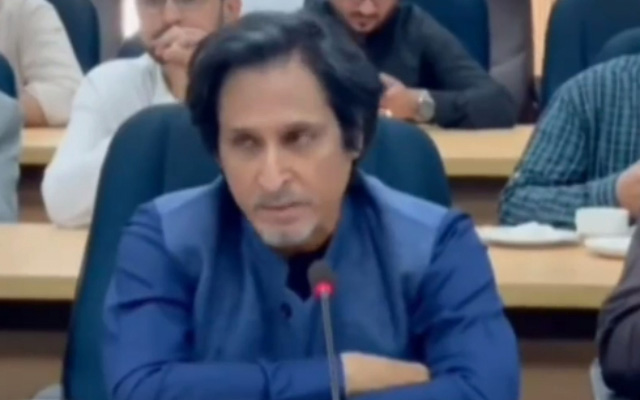 2 mins read
'Don't touch social media' – Ramiz Raja's advice to Pakistan ahead of do-or-die Asia Cup Super 4 clash against Sri Lanka
India's victory over Sri Lanka in their second Super 4 match has seemingly breathed new life into Pakistan's hopes of making it to the tournament's final showdown. While Sri Lanka's triumph appeared to be on the horizon for a significant portion of the match, the eventual Indian win has paved the way for Pakistan to secure a finale spot.
Former Pakistan cricketer Ramiz Raja has a no-nonsense message for the team ahead of the crucial final Super 4 encounter against Sri Lanka: steer clear of social media and television. He emphasized the significance of mental respite, given the emotional rollercoaster of their recent defeat to arch-rivals India. 
"If anyone needs special practice, they can take it. Go to the pool, relax. Don't touch social media, don't watch television channels. There won't be anything good there because the whole of Pakistan is disappointed. Get united. You point fingers at each other after such defeats, that too against India. That shouldn't happen," said Ramiz in a video posted on his YouTube Channel.
India provides golden chance to Pakistan in the Asia Cup 2023
The former Pakistan player aptly pointed out, it's imperative for Pakistan's cricketing stars to recharge their batteries, both mentally and physically. Captain Babar Azam's role in uniting his squad and elevating their spirits for the upcoming clash with Sri Lanka could prove to be the catalyst for their journey to the Asia Cup final.
"India have given Pakistan a ray of hope with the win over Sri Lanka. Now we've to see if Pakistan can take benefit from that, or whether they will be low on spirits because of the defeat against India. They need some time off the game, they have to be mentally switched off, they got a reserve day. They've got a good two-day rest period where they shouldn't think of cricket or the defeat but get together and talk," Raja added.
#Dont #touch #social #media #Ramiz #Rajas #advice #Pakistan #ahead #doordie #Asia #Cup #Super #clash #Sri #Lanka