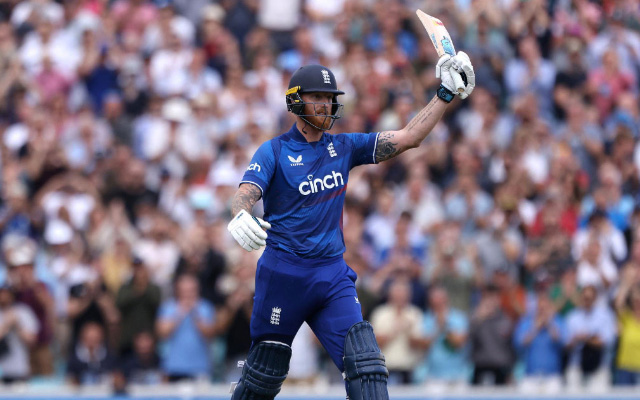 2 mins read
'Rather he score them now than on October 5'
England's star all-rounder Ben Stokes showcased his prowess again with his record-breaking knock of 182 runs at The Oval. Stokes created history with this remarkable achievement, setting a new record for England's highest individual score in the 50-over format. The brilliant performance helped England to a resounding 181-run victory over New Zealand in the third ODI.
With the ODI World Cup in India on the horizon, the defending champions are set to face runners-up New Zealand in the tournament's opening match. As Stokes started to showcase his excellence with his phenomenal performances, New Zealand's coach, Gary Stead said that his bowlers have already witnessed the best of Stokes.
"Ben Stokes played an amazing innings, England's best. That was pretty special to watch. I don't mind Ben Stokes. I'd rather he score them now than on October 5," Stead told reporters.
Despite Stokes' dominant presence in Wednesday's match, Trent Boult returned to action with a bang for Kiwis, claiming five crucial wickets for 51 runs. His early dismissals of Jonny Bairstow and Joe Root had England reeling at 13 for two before Stokes and Dawid Malan had a brilliant 199-run partnership.
"It's great to have Trent back. He brings a lot of energy, and a lot of skill. It's just a pity we haven't been able to capitalize on those starts," Stead added, acknowledging Boult's significant impact.
Furthermore, Stead downplayed the absence of spin-bowling all-rounder Mitch Santner, who was sidelined due to knee soreness.
"Mitch had a bit of a scan on his knee … But it's come back positively, which is good for us. He's just got quite a bit of swelling around the knee still which they think is a joint problem. So it's nothing more than that," he said.
As the cricket world eagerly anticipates the upcoming World Cup clash between England and New Zealand, the hope remains that Ben Stokes' brilliance doesn't repeat itself for New Zealand's sake.
#score #October